Cityscape Paintings
Our collection of stunning cityscape paintings that represent and reflect authentic artistic representations. Our collection aspires to exhibit in-depth personality and character.
Landscape Paintings
Our landscape painting collection is meant to illustrate and represent a diverse assortment of principal themes that depict rich, artistic and elegant views and scenery.
Modern Art Paintings
Paintings from our modern art collection are non-representational and instead aim to use elements such as shapes, colors, patterns, and forms to achieve its desired effect.
Figurative Art Paintings
Paintings from our figure art collection are professional and made by artists by using elements such as shapes, colors, patterns, and forms to achieve its desired effect.
Still Life Paintings
Paintings from our still life collection are professional and made by artists by using elements such as shapes, colors, patterns, and forms to achieve its desired effect.
Traditional Paintings
The purpose of our paintings is to communicate a message, comment, or scream or sing about the world in which we live.
Paintings are the best products when it comes to renovating your home or office walls. It's amazing how different types of paintings make your old walls look fresh and give them a whole different look. Professionally and handmade build paintings always deliver a strong message, and they are also one of the most expensive products in the world. The world of handmade paintings typically revolves around three main categories. Those categories include cityscape paintings, landscape paintings, abstract paintings. At Home Diart, you are provided with all the best paintings that fall into these categories.
Handmade Paintings by Real Artists
The art of making handmade paintings has seen some of the world's greatest minds. Behind every handmade painting, there's an engaging story (emotional or exciting) that is attached to these masterpieces. For most of the artists, making a painting gives their life a reason to live. Home Diart is one of the country's greatest supplier of the best handmade paintings. We have a collection of every famous artist. Our canvases are real, and we aim to provide you with affordable handmade paintings by real artists. 
Best Cityscape Paintings
The cityscape paintings are all about capturing the virtue of cultures, architecture, and city life. The people who love to travel and feel the beauties of the world buy the best cityscape paintings to encourage themselves. So if you are looking for the top cityscape paintings, then we have some modern and breathtaking pictures for you. All of our handmade paintings are manufactured by professionals that add a delightful touch to any wall when placed. Our collection of cityscape paintings are simply expressive and unique!
Best Landscape Paintings
Making of Landscape paintings is a way to express the beauty of mountains, fauna, beaches, nature, and water. It's crazy how the professional painters show the elements of landforms combine with water to produce memorable scenes. Home Diart provides nature lovers with the best landscape paintings in the country. Our canvases are so real that it makes you feel like you're actually standing in front of a landscape. We have a large variety of scenic views that are expressive and delightful to everyone's eye.
Best Abstract Paintings
Abstract paintings are one of the most famous and trendy arts in the world. They are typically based on the emotions that deliver a strong message through colors, shapes, and lines. You can purchase thousands of the best abstract paintings that are from the world's most famous art galleries from us.
Read More
Modern Art
Authentic Hand-Crafted rugs with designs inspired by contemporary abstract art.
Modern Art
Kazak Rugs
Classic Kazak Designs from the Caucus Mountains with vibrant colour patterns.
Kazak Rugs
Chobi Rugs
Hand-Knotted rugs made using hand-spun wool alongside natural wooden dyes.
Chobi Rugs
Super Chobi
Super Chobi Soft and luxurious handwoven carpets made using radiant colours and wool.
Super Chobi
Patchwork Rugs
Gentle, soft, and delicate patchwork rugs Handmade to give optimum results .
Patchwork Rugs
No doubt, rugs can make your room look bloom. When it comes to buying a rug for your house, people tend to look for handmade rugs. One of the prime reasons is that handmade carpets are generally "green" products in the understanding that they don't include petroleum-based materials as found in machine-made carpets. Moreover, these rugs also don't expel toxic gases while being used under different environments and are specially made from renewable cotton or wool cloth. Making of handmade rugs is an ancient art that is respected by the world. The designs that are constructed with the hand-knotted technique include emotions and realism when made by a professional.
Handmade Rugs | HomeDiArt
The art of making rugs has captured millions of carpets experts from around the globe that continues to grow. Behind each handmade carpet, there's an extraordinary story that is attached to these pieces of rugs. When we talk about masterpieces, Handmade rugs are the perfect examples of this. An Individual handmade rug takes approximately 9 to 12 months on an average to make with about 2 to 4 people working on it. The world appreciates these best handmade carpets that represent the extraordinary brilliance.
When people look for the best handmade rugs, Home Diart is the place where they can find reliable pieces of modern art. We have the collection of the world's iconic handmade rug designs made by specialists. Well-known artists make all our rugs with the highest degree of the profession that has the potential to attract every individual attention.
Why Home Diart?
Home Diart is a place to buy the best handmade carpets that are made by professionals with the highest level of quality. We aim to provide you the country's best handmade rugs that'll give you a cheer every time you look at them or sense them with your body. We offer different rug types that include Modern Art, Kazak rugs, Chobi rugs, Patchwork rugs, Sootri rugs, Chobi Kilim rugs, and Super Chobi rugs. We can provide you with any design of rug you can imagine. So if you are someone looking for the best handmade rugs then you are at the right place.
We do things differently! We take pride in what we made. Our rug designs take months to construct to make sure you are being provided with the product that can't be found anywhere else in the country. Our rugs are simply unique and come with the finest quality. HomeDiart is the only place in America to purchase modern and unique rugs for your home or workplace. Select your dream design and color and make your old room look brighter.
Read More
Red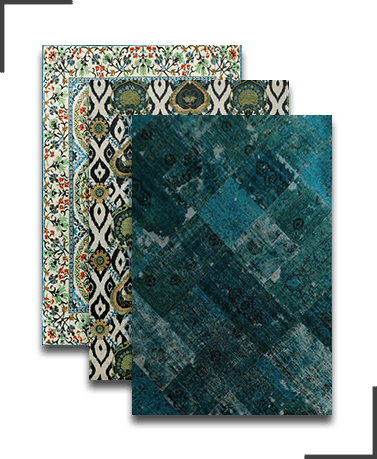 Green
Rose
Grey
Rust
Black
Beige
Blue
Purple
Multi Colored